If you've found this site useful, we'd really appreciate a small donation to help with the hosting costs. Thanks!
The 1934 Drawing and its Correspondences in Picasso's Oeuvre
Peace, 1952
This well known painting by Picasso, which forms half of the suite "War and Peace," contains an unusual inversion of bird and fish symbolism in which the fish bowl contains birds, and the bird cage contains fish.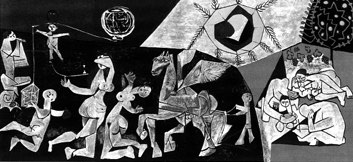 Both the 1934 drawing and "Guernica" contain a similar inversion. In the drawing, there is a concealed bird standing upon a fish's head, and in "Guernica" there is a fish above a concealed bird.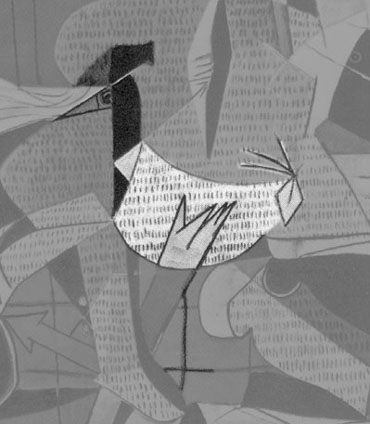 The inversion is almost certainly derived from the mystical ballet "Uspud," written in 1892 by the artist's friend, Erik Satie.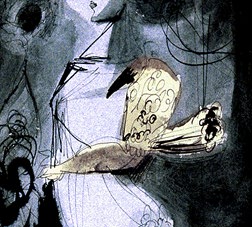 In "Uspud", an extraordinary crucifixion takes place featuring, "fish bodies with the heads and wings of birds" and other strange animal and demonic forms which also make an appearance in the recently discovered drawing.
For further information about this please refer to the Erik Satie text in the index.
© Mark Harris 1996, 1997


---
---