If you've found this site useful, we'd really appreciate a small donation to help with the hosting costs. Thanks!
The 1934 Drawing and its Correspondences in Picasso's Oeuvre
Picasso's illustrations of Paul Eluard's poem, "La Barre d'Appui", 1936
There are two features in the complete edition of this print from 1936 which correspond to similar features in the 1934 drawing.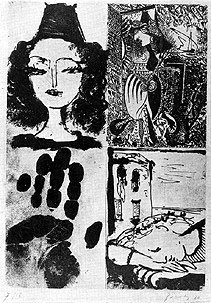 The handprint in the lower left panel corresponds indirectly to the drawing's hidden fingerprint and the mysterious cufic inscription* in the upper right panel of the print, which is normally only visible as a detail, relates to a similar inscription written upside down within the sleeve of the figure on the right in the drawing.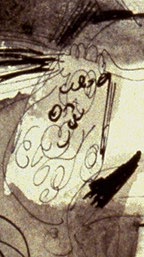 Magical alphabets are a frequently used tool of the magician and the alchemist, and it appears very likely that these mysterious inscriptions are composed in such an alphabet.
* Noted by Alfred Barr in Picasso, "Fifty Years of His Art",1946.
© Mark Harris 1996, 1997


---
---