If you've found this site useful, we'd really appreciate a small donation to help with the hosting costs. Thanks!
The 1934 Drawing and its Correspondences in Picasso's Oeuvre
The Embrace, 1901
Picasso made many studies and paintings on the theme of the lovers' embrace, this later developed into the more meaningful composition, "La Vie".
The embrace is in part a pregnancy motif and it reappears in a complex and astonishing way in the 1934 drawing.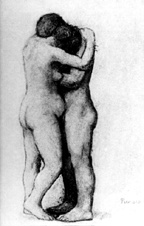 Around the sketchily rendered embracing figures in the drawing are an array of hidden features which include, a snarling mouth, a flame, an open vulva and a laterally inscribed number "13", the number of the "Death" card in the Tarot whose presence indicates the death of the lovers' relationship and possibly, the death of their unborn child.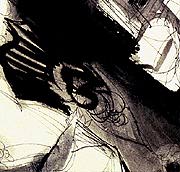 © Mark Harris 1996, 1997


---
---