If you've found this site useful, we'd really appreciate a small donation to help with the hosting costs. Thanks!
The 1934 Drawing and its Correspondences in Picasso's Oeuvre
La Vie, 1903
This is another so called exorcism painting, it depicts two females, one who is naked and in a partial embrace with her lover, and the other who is clothed and carrying a baby in her arms. In between them stands the artist Casagemas pointing at the baby. In the background are two canvases, one shows a grieving couple and the other a crumpled figure in a state of distress. From the preparatory studies for the painting it becomes evident that the depicted artist was originally intended to be Picasso, whose depicted lover is heavily pregnant.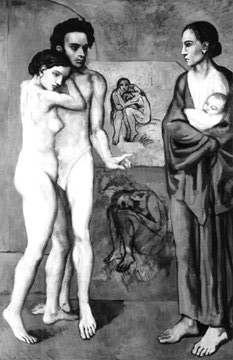 In one of these studies, the male figure has upraised arms in a gesture suggestive of crucifixion, the principal theme of the 1934 drawing. The drawing is without doubt a reworking of "La Vie", in which the depicted artist is similarly positioned between two females and confronted by a pregnancy, he is also pointing a finger in the direction of his pregnant lover. Although its pregnancy motifs are not immediately apparent, they are alluded to in the drawing by the female on the left holding her slightly convex belly and by the concealed baby's bottle in the upper centre of the composition.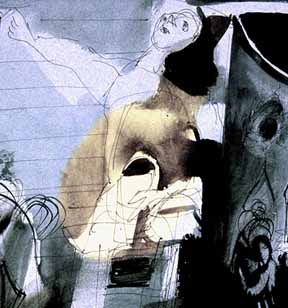 In both pictures, the central and left hand figures appear very concerned by the consequences of their sexual attraction for each other, and the figures on the right appear to represent a threat in the guise of an aggrieved partner exposing their partner's infidelity. There is an added suggestion in "La Vie," that the female on the right, is a dark portent of the future.
© Mark Harris 1996, 1997


---
---