If you've found this site useful, we'd really appreciate a small donation to help with the hosting costs. Thanks!
The 1934 Drawing and its Correspondences in Picasso's Oeuvre
Night Fishing in Antibes, 1939
This painting, and some later Picasso lithographs, contain the same spiral light motif seen in the upper left of the 1934 drawing.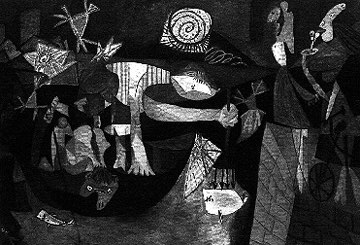 In addition, the hidden motifs of a fish and a trident in the drawing relate to similar motifs in the painting, as well as to a number of other fishing pictures from this period.
© Mark Harris 1996, 1997


---
---