If you've found this site useful, we'd really appreciate a small donation to help with the hosting costs. Thanks!
The 1934 Drawing and its Correspondences in Picasso's Oeuvre
The Burial of Casagemas (Evocation), 1901
"The Burial of Casagemas" is often cited as Picasso first exorcism picture, it depicts the ascension of the soul of the artist's friend Casagemas, who shot himself in a Parisian café in 1901.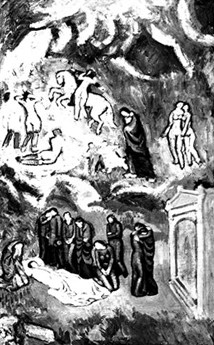 Two important motifs from this painting recur in the 1934 drawing, namely, the embracing couple in the lower left and the crucified horseback rider in the upper centre. The crucified rider represents the soul of the individual, and as a symbol it has its origins in occult symbolism as well as in earlier drawings and paintings by Picasso showing its stages of development.
© Mark Harris 1996, 1997


---
---