If you've found this site useful, we'd really appreciate a small donation to help with the hosting costs. Thanks!
The 1934 Drawing and its Correspondences in Picasso's Oeuvre
Pantomime Horse Studies for Parade, 1917 - Related Puppetry Imagery
Picasso was fascinated by puppetry and linked to this were his pantomime horse studies created for Jean Cocteau's ballet, "Parade," in 1917.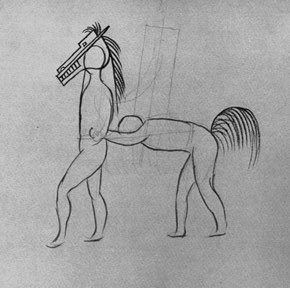 The designs provided Picasso with an opportunity to experiment wildly with another much loved subject, the horse, a personal symbol of female sexuality which had appeared many times previously in scenes from the bullfight and the circus.
The pantomime horse motif reappears in the 1934 drawing as a concealed Picador's horse sharing body parts with the two women either side of it.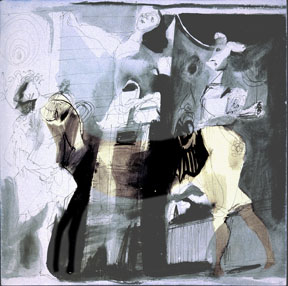 Into this extraordinary amalgamation Picasso incorporated an autobiographical pun; the central figure, Picasso, appears to be riding on the horse's back whilst at the same time controlling his two women by means of puppetry; the female on the left, at the horse's head, appears as a marionette controlled by the strings descending from his right hand and the female on the right, at the horse's rear, appears as a glove puppet controlled by the hidden hand inside her head. This of course is a reference to Picasso the puppet master, which in turn has deeply magical connotations.
© Mark Harris 1996, 1997


---
---