If you've found this site useful, we'd really appreciate a small donation to help with the hosting costs. Thanks!
The 1934 Drawing and its Correspondences in Picasso's Oeuvre
Curtain Design for Romain Rolland's Play,"Le 14 Juillet", 1936
In this image there is a crucified horseback rider similar to the one in the 1934 drawing.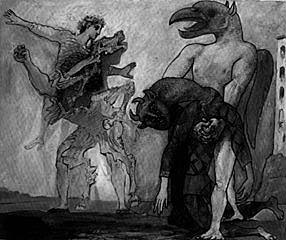 The motif also relates to the "Sun" card in A.E. Waite's designs for the Tarot, which depicts a child on horseback with outstretched arms, reminiscent of crucifixion.
© Mark Harris 1996, 1997


---
---