If you've found this site useful, we'd really appreciate a small donation to help with the hosting costs. Thanks!
The 1934 Drawing and its Correspondences in Picasso's Oeuvre
Costume Studies for Pulchinella, 1920
"Pulchinella" was Picasso's favourite ballet, which he worked on with Diaghilev in 1920.
Picasso has taken elements of his costume design for one of the ballet's principal characters, "La marchande des Poissons," and incorporated them into the left hand figure in the 1934 drawing, whose feet and squared head covering are almost identical.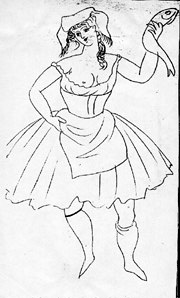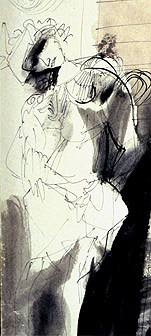 In addition, the fish which appears in the costume design appears to be related to the fish concealed along the right hand edge of the drawing and to other fish shapes hidden in the composition.
© Mark Harris 1996, 1997


---
---