If you've found this site useful, we'd really appreciate a small donation to help with the hosting costs. Thanks!
The 1934 Drawing and its Correspondences in Picasso's Oeuvre
Le Meurtre, 1934 and The Death of Marat, 1934
These furious drawings, executed in the same traumatic period of Picasso's life, contain an identical murder narrative as the recently discovered drawing.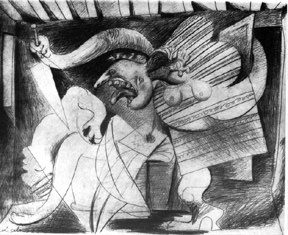 The characters involved in the murder are also identical, Marie-Thérèse is the victim and Olga is the assailant.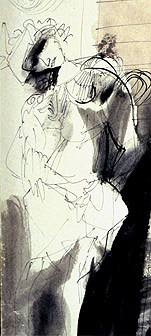 In the drawing the murderous attack is related in a cryptic fashion, Marie-Thérèse appears to be mortally injured by the 'U' shaped darts stabbing into her neck and shoulder, the darts symbolise pairs of bull's horns and the goring of the horse in a bullfight.
The darts appear to emanate from a cache of similar shapes hidden behind Olga's back. The assault upon Marie-Thérèse is also described in Picasso's private poems of 1935, in which she is "reduced to the miserable state of the wounded horse in the bullfight" and is "subjected to obscene insults and injury."*
The carving knife in both these earlier drawings appears to have also been cryptically incorporated into the recently discovered work, where it appears in the form of Olga's knife-like nose, pointed purposively in the direction of Marie-Thérèse.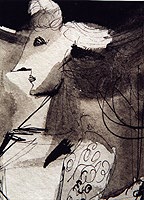 * From a study of Picasso's poems by Jose Barrio Garay, quoted in Hershel.B Chipp's, Picasso's "Guernica", History, Transformations, Meanings. Thames and Hudson, 1989.
© Mark Harris 1996, 1997


---
---