If you've found this site useful, we'd really appreciate a small donation to help with the hosting costs. Thanks!
The 1934 Drawing and its Correspondences in Picasso's Oeuvre
La Statuaire, 1925
In this portrait of Picasso's wife, there is a sharp nosed, dark profile around the face which relates to a similar profile on the right in the 1934 drawing and to an almost identical profile on the right in the "Three Dancers".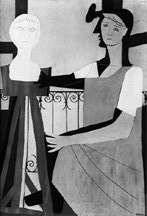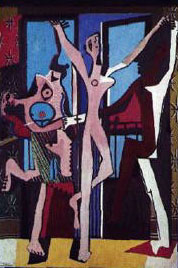 This is a very rare feature in Picasso's work which seems to relate to the dark and destructive side of Picasso's marriage with Olga.
© Mark Harris 1996, 1997


---
---