If you've found this site useful, we'd really appreciate a small donation to help with the hosting costs. Thanks!
The 1934 Drawing and its Correspondences in Picasso's Oeuvre
Curtain Design for Parade, 1917
This complex composition shares a great deal of the same symbolism as the 1934 drawing.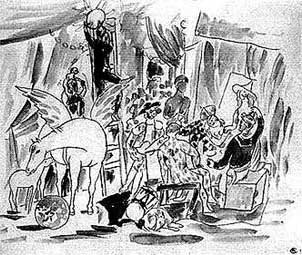 Common to both are: a horse, a bullfighter, a sailor, a curtain, a ladder, an angel and a dog.
In addition, in one of Picasso's preparatory studies for the design, shown below, he depicts a ladder surmounted by a star symbolising the stages of the alchemical process and its ultimate goal of mystical enlightenment.
This alchemical symbol is strongly associated with a range of alchemical motifs that appear in the 1934 drawing.
© Mark Harris 1996, 1997


---
---