The 1934 Drawing and its Correspondences in Picasso's Oeuvre
Les Desmoiselles d'Avignon, 1907
"Les Desmoiselles d'Avignon," which is principally a crucifixion composition, is another of Picasso's most celebrated paintings and it reveals an important compositional relationship to the 1934 drawing.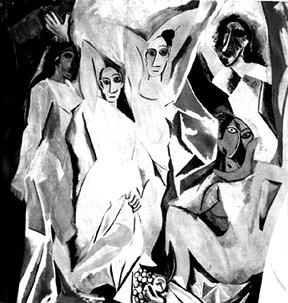 Like many of the other examples given here, it shows how Picasso was preoccupied throughout his life with reworking the same handful of structures, themes and motifs.
In this case, the central figures of each picture are suggestive of crucifixion in addition the right hand figures in each emerge or appear to have emerged from behind a curtain.
Furthermore certain elements in Picasso's preparatory sketches for "Les Desmoiselles d'Avignon" appear to relate closely to elements in the drawing.

The hidden skull and maritime motifs in the drawing relate to the skull and sailor motifs in the the preparatory sketches and the hanged man motif alluded to in the central figure in the 1934 drawing relates closely to the seated figure with crossed legs in the sketches.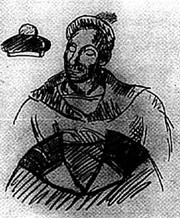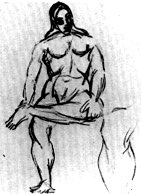 The isolated hand above the left hand figure's head in les Desmoiselles is strongly evocative of the flying hand in the drawing, and the slice of melon and fruit in foreground contain a cryptic reference to the crucifixion motifs of the sun and the moon, which are also present in the drawing.
© Mark Harris 1996, 1997


---
---