If you've found this site useful, we'd really appreciate a small donation to help with the hosting costs. Thanks!
The 1934 Drawing and its Correspondences in Picasso's Oeuvre
Crucifixion Studies of the 1930's
In Picasso's 1930's studies of the Crucifixion, there is a mastabatory symbolism around the figure of the crucified Christ.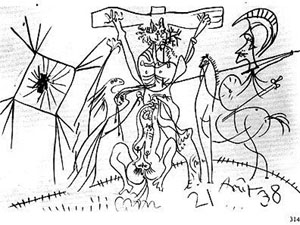 This is also strongly implied in the 1934 drawing where the painter's hand can be seen resting upon the phallic, erect handle of his paintbrush in the central area of the composition. There is also an extraordinary recurrence in the 1934 drawing of a distinctive shape like an animal or demon's eye that appears in two of Picasso's 1932 crucifixion studies.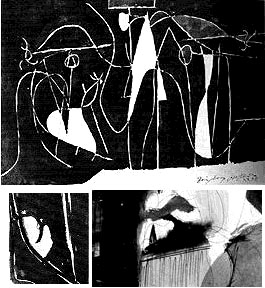 In all three the eye appears as a white ovoid form containing a black, pointed pupil.
© Mark Harris 1996, 1997


---
---