If you've found this site useful, we'd really appreciate a small donation to help with the hosting costs. Thanks!
The 1934 Drawing and its Correspondences in Picasso's Oeuvre
Erotic Compositions of the 1950's and 1960's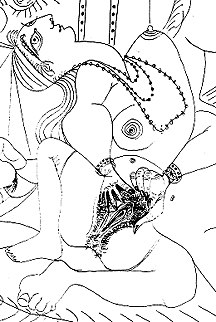 Many of Picasso's erotic compositions of the 1950's and 1960's depict a female openly displaying her anus and vulva, in some these, the genital details are often inverted with the anus appearing above the vulva.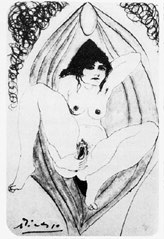 In the 1934 drawing there is a similar inverted vagina and anus configuration which has been concealed around other elements of the composition. The vulva can be seen as the flame in front of the right hand figure, and the anus as the black circular form direct above vulva.

This black circular form also represents the eye of the bull to the right and the bloody end of the painter's severed arm.
© Mark Harris 1996, 1997


---
---