If you've found this site useful, we'd really appreciate a small donation to help with the hosting costs. Thanks!
The 1934 Drawing and its Correspondences in Picasso's Oeuvre
The Mackerel, 1903
There are at least two related drawings on this erotic theme in which an aquatic creature engages in sexual intercourse with a woman.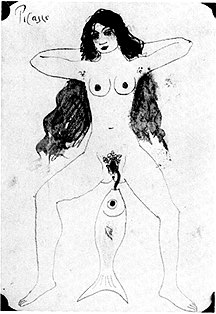 In the 1934 drawing there is a concealed and shocking variation of this.
The front part of the leggings of the female on the right takes the form of an open fish's mouth, out of which emerges a long tongue that seems to be an extension or inversion of the woman's vagina.
The tongue appears to be lapping the vertical black column in the centre of the picture, which due to its placement, appears to represent an enormous flow of blood gushing from the dark, almond shaped area above the left paint bucket in the area of the central figure's abdomen.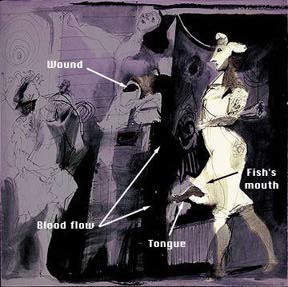 This black form appears to symbolise the wound of the "coup de grace" in the side of Christ. In Picasso's crucifixion studies of 1938, a female figure, identifiable with the Magdalene, can be seen ecstatically drinking the blood from Christ's wound in a comparable fashion.
© Mark Harris 1996, 1997


---
---