If you've found this site useful, we'd really appreciate a small donation to help with the hosting costs. Thanks!
The 1934 Drawing and its Correspondences in Picasso's Oeuvre
The Three Dancers, 1925
This was Picasso's most celebrated surrealist painting, and one of his personal favourites. It is, in many respects, identical to the 1934 drawing in composition.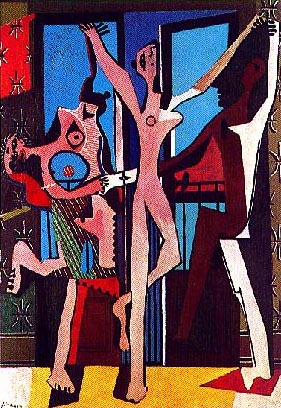 In each, the three figures are in the same pose and relative position. Also, the sharp nosed profile behind the right hand figure reappears in the face of the corresponding figure in the drawing. The wall design in the painting, which appears to be related to a fleur de Lys, recurs by suggestion in the trident form seen in the upper right of the drawing.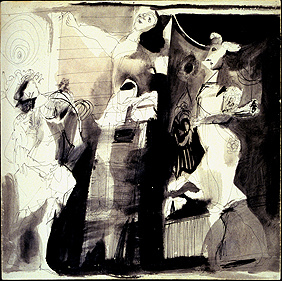 Similarly, both pictures share the same structure and positioning of verticals and receding floor space. In addition, a number of other motifs hidden in the painting, such as disguised fish and a half moon form also appear the drawing, in a different form and location.
There is further account of the "Three Dancers" relationship to the 1934 drawing on the following page.
© Mark Harris 1996, 1997


---
---