The 1934 Drawing and its Correspondences in Picasso's Oeuvre
Minotauromachy, 1936
"Minotauromachy", which is often cited as the most important print of the twentieth century, also bears many similarities to the 1934 drawing.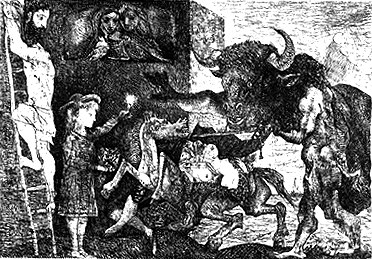 There is again a similar tripartite structure to both compositions and the principal protagonists are almost identical.
The flower girl holding a candle, the Minotaur advancing from the right, and the enjoined figures of the wounded horse and Marie-Thérèse in a bullfighter's costume, are all very closely related to those in the drawing.
The bullfighter's costume is a recurrence of the costume worn by the figure on the right in the drawing, and its wearer, Marie-Thérèse, appears on the left of the drawing, cryptically personified as the wounded horse in the bullfight.
There are also similarities between the Minotaur with the concealed bull on the far right of the drawing, and there are further similarities between the horses which occupy the central positions in each of the two compositions.
Furthermore, the Christ-like figure climbing the ladder in "Minotauromachy" relates closely to the crucified figure on a ladder in the drawing, in each case the figure is identifiable as Picasso, in a Christ-like alter ego.
The flower girl's burning candle recurs as the flame-like motif in front of the right hand figure in the drawing, who is further identifiable with the flower girl because of the bunch of flowers concealed behind her back.
In addition the sinking sailing boat on the sea's horizon in the print relates to the hidden marine motifs in the drawing and the two birds perched on the window ledge relate with the drawing's two concealed owls.
Furthermore, the building on the left which is closely related to the burning building in "Guernica", is reminiscent of a puppeteer's theatre, which in turn relates to the puppetry allusions in the drawing.
As can be seen from this long list of similarities, the drawing's relationship with "Minotauromachy" is a very close one indeed.
© Mark Harris 1996, 1997


---
---