If you've found this site useful, we'd really appreciate a small donation to help with the hosting costs. Thanks!
The 1934 Drawing and its Correspondences in Picasso's Oeuvre
Grand air, Les yeux fertiles, 1936
In this illustrated poem, a horned female plucks out the eye of the Baccus figure opposite her.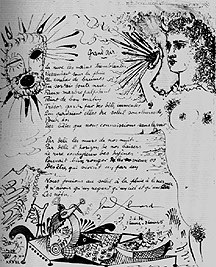 The two figures symbolise the universal opposites, male and female, sun and moon, etc, in much the same way as the left and right hand figures do in the 1934 drawing.
The significance of a one eyed god relates to Picasso's preoccupation with the theme of blindness which seems to have begun in Horta or Barcelona in 1899 with a watercolour and charcoal portrait of a mysterious one-eyed man.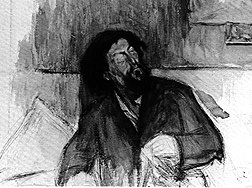 In the 1934 drawing, the theme of blindness recurs in a number of ways, most significantly in the depiction the central figure, who appears as a crucified painter, identifiable with the Hanged Man in the Tarot.
"The Hanged Man" is the Norse god Odin, who sacrificed an eye, was stabbed by a spear, and underwent an inverted crucifixion to gain mystical enlightenment.
For more information about this please refer to the "The Three Dancers" and "Hanged Man" texts listed in the index.
© Mark Harris 1996, 1997


---
---