If you've found this site useful, we'd really appreciate a small donation to help with the hosting costs. Thanks!
Along the right hand edge of the drawing there is a concealed image of a dog like creature associated with Anubis, one of the Egyptian gods of the underworld.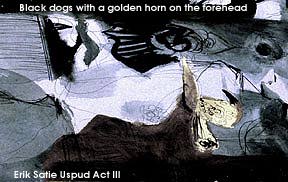 This strange animal form also appears to be strongly connected with Erik Satie's 1892 ballet 'Uspud'. Satie was a Rosicrucian and had been a great friend of Picasso, who was said by Picasso, to have been one of the most important influences in his life. The two had worked together on Jean Cocteau's 'Parade' in 1917, and they had a strong mutual interest in Alchemy and the Occult.
Uspud is a deeply mystical and satirical work; it is short and full of strange imagery, like the 1934 drawing, it unfolds around the theme of the Crucifixion. In the final act, there is a description that strongly resembles the image of Anubis in the drawing. There is a further description of fishes with the heads and wings of a bird which appears to be represented pictorially in the same part of the drawing.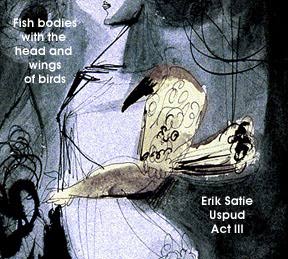 Uspud Act III
The top of a mountain: a crucifix above.
Uspud, clad in homespun garments. prostrates himself before the crucifix: for a long time he prays and weeps.
When he raises his head, Christ unfastens his right arm from the cross, blesses Uspud and disappears. The holy spirit penetrates Uspud.
Procession of male and female saints: saint Cleopheme spits his teeth into his hand: saint Micanar bears his eves on a platter the blessed Marcomir has his legs burnt to a cinder: saint Iduciomare's body is pierced with arrows, saint Chassebaigre, confessor, in violet robes: saint Lumore with a sword; saint Gebu with redhot irons; saint Glunde with a wheel: saint Krenou with a sheep; saint Japuis, with doves escaping from a cleft in his forehead: saint Umbeuse spinning wool: the blessed Melou the lame: saint Vequin the flayed: saint Purine the unshod: saint Plan, preaching friar: saint Lenu with a hatchet. Their voices summon Uspud to martyrdom. He is penetrated by an unquenchable thirst for suffering. He tears off his homespun robes and appears clad in the white tunic of neophytes. He prays again. A swarm of demons rise up on all sides. They assume monstrous forms: black dogs with a golden horn on the forehead; fish bodies with the head and wings of birds: giants with bulls heads. snorting fire through their nostrils. Uspud commends his soul to the lord, then gives himself up to the demons who tear him to pieces in a fury. The Christian church appears radiant with light and escorted by two angels bearing palm leaves and crowns. She takes Uspud's soul in her arms and raises him up towards Christ, who is resplendent in heaven. End.
Apart from the two similarities in imagery with that in the 1934 drawing, Picasso seems to have used Uspud as a source for a series of 1959 crucifixion sketches related to the bullfight. They depict Christ crucified in a bullring, detaching his right arm from the cross, just as described in act III.
© Mark Harris 1996


---
---