The 1934 drawing contains two extraordinary mirror images that can be seen by placing a mirror vertically down the centre of the composition.

The right hand side reveals a bull-like horned demon flanked by two guardians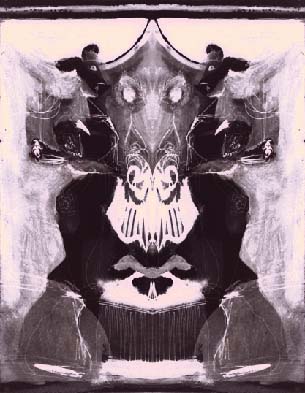 and the left hand side reveals a terrifying apocalyptic crucifixion.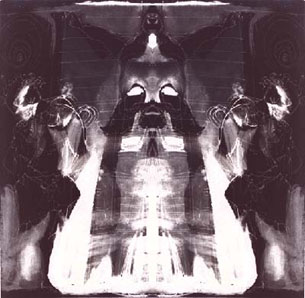 The use of willow wands, wax dolls, water divining and magic mirrors are well known features of Tao magic which happens to be closely related to European sorcery. Taoist magical practices were bought to Europe centuries ago by Arabs trading with China. Taoist magicians would often possess a magical mirror which he would use to compel his demon to appear to him in his true shape, once this was accomplished the magician would be freed from the demon's power.
This freeing from the demon's power appears to have been Picasso's magical intention in incorporating such images into the drawing. It is especially relevant in the context of Picasso's own overpowering feelings of crucifixion and melancholy in 1934 and to his vision of the European apocalypse that was to be bought about by Hitler.
The images are shown in negative for added impact.
© Mark Harris 1996
Further Reading:Perle Epstein, Oriental Mystics and Magicians, 1975, Garden City, NY: Doubleday and Co Inc.


---
---