How to Pay for Listed Items
IMPORTANT Please check availability of the item before making payment. This can be done by sending an email to: markharris@hotmail.com. Please include the reference number of the item you wish to purchase along with your name and shipping address.
As soon as availability of the item has been confirmed, your payment can be sent via Paypal to: markharris@hotmail.com
Payments by all major Credit Cards can be made via Paypal.

You are able to sign up for Paypal at the point you intend to submit payment, as part of the payment process.
Alternative Methods of Payment
Please email markharris@hotmail.com to arrange payment by personal check, money order or wire transfer.
---
Catalogue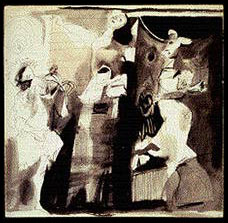 Black ink and wash on paper, laid to card, approximately 15 inches by 15 inches, framed. Signed, dated and fingerprinted within the composition. Please refer to the main website for full details.
Price on application.
Serious enquiries only please.
Other Items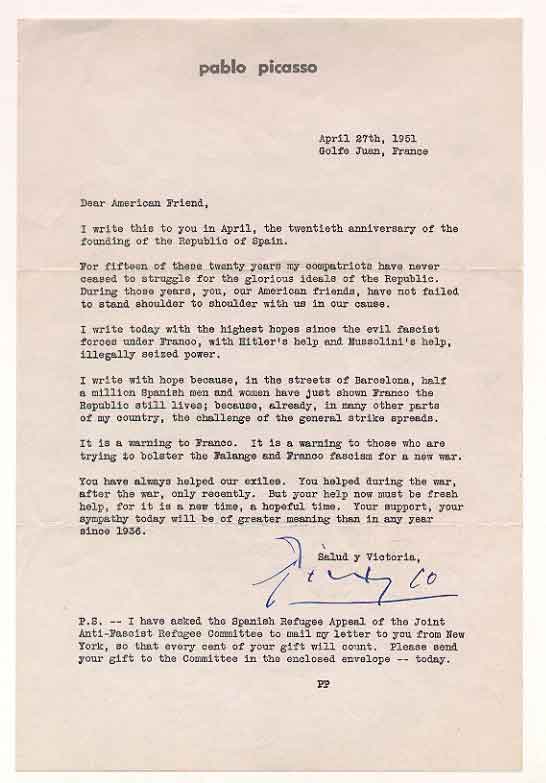 Typewritten in English on Picasso's personal notepaper and addressed to an anonymous American supporter of the Spanish Refugee Appeal. Signed with Picasso's studio stamp in blue ink. The dating of the letter is important because it coincides with the twentieth anniversary of the founding of the Spanish Republic and with the fourteenth anniversary of the first news reports of the bombing of Guernica in 1937. Apart from its rich political content, the letter is of further interest as it was mailed covertly to protect its recipient from the FBI, who since 1945 had been investigating Picasso's activities due to his outspoken support of Communism.
Price $1,250 USD SOLD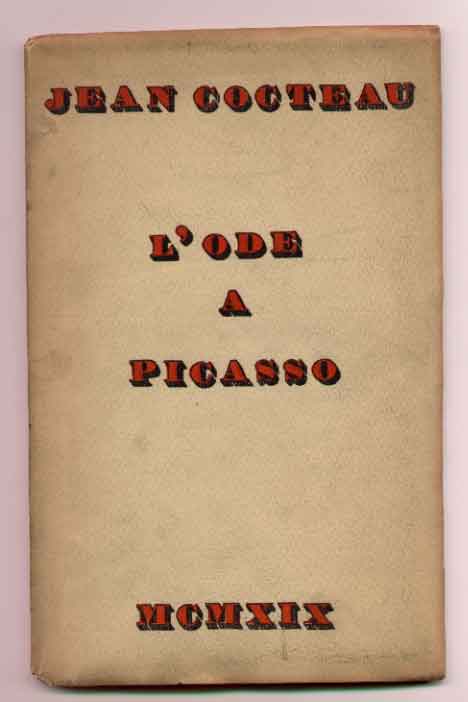 A rare first-edition of Jean Cocteau's 1917 poem "L'Ode A Picasso". First edition of 339 copies published in 1919 by A La Belle Edition, Paris. Numbered 177 from that edition. In publisher's original paper wraps, slightly age-worn on the wraps but otherwise in near-fine condition throughout. Exquisitly printed in black and orange inks on Verge d'Arches paper. Inside pages clean and bright (with a minor tear at the bottom of one page).
Approximately 9 inches by 6 inches.
Price $950 USD SOLD
In the period 1925-6 Ambroise Vollard commissioned Picasso to illustrate a bibliophile's edition of Andre Suares' classic, "Helene Chez Archimede". Picasso submitted 22 drawings for the project which were transferred to woodblock by Georges Aubert, the greatest wood-engraver in France at that time. Aubert also produced the woodblocks for Picasso's illustrations to "Le Chef D'Oeuvre Inconnu", perhaps the most celebrated of all Picasso's illustrated book productions. Vollard did not see "Helene Chez Archimede" through to a conclusion and the woodblocks for the project were put into storage. In 1955, the Nouveau Cercle Parisien du Livre, an independent group of Parisian bibliophiles, obtained the woodblocks and with Picasso's consent, they produced a large and sumptuous edition of the book in a strictly limited edition of 240 unbound copies, 100 of which went on sale to the public. None of the prints were signed. The prints for sale here are from this unique edition. They are all rich, dark impressions, printed on heavy cream stock with wide margins and some deckle edges. The paper size of each print is approximately 17 inches by 13.5 inches. The prints are in excellent condition with only minor indications of vintage and prior framing. A guarantee of authenticity will accompany each item.
Please quote the number listed below the prints (which are shown here) when ordering.
Price $450 USD each (plus $25 for shipping, handling and insurance).
Totalling 194 pages from the FBI's formerly secret file on Pablo Picasso, covering the period 1945-1957. Prepared in PDF format for use on both PC and Mac systems. Some of the information in the file has been censored prior to declassification.
Price $15 USD (includes shipping and handling in the US, add $3 USD for elsewhere)

---
---