If you've found this site useful, we'd really appreciate a small donation to help with the hosting costs. Thanks!

In the bottom part of the drawing is a deliberately placed fingerprint which has been rolled into the wet ink.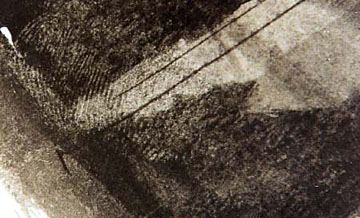 The fingerprint has at least 14 identifiable characteristics which is more than enough to be presented as evidence in a court of law.
Fingerprinting works of art was a technique that Picasso sometimes employed.
In 1914, the French criminologist, Alphonse Bertillon, proposed that artists fingerprint their work in order to prevent the fraud. An article about this appeared in Le Matin under the title 'Bertillonage, on ne trouquera plus les d'oeuvres d'art,' in which a number of famous artists, including Rodin, were said to have ascribed to the system. A cutting of the article later appeared in Juan Gris' cubist painting, 'Figure Seated In A Cafe'.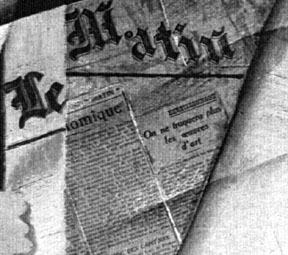 At this time Gris and Picasso were in close communication, therefore it seems probable that Picasso learned about fingerprinting at around this time.
Jean Gluck, a former secretary of Picasso, responsible for cataloguing the artist's work, claimed in 1994, that there were a number of Picasso drawings signed with a fingerprint. John Richardson stated that Picasso never signed that way and like a number of historians close to the Picasso estate, he dismisses the fingerprint as evidence. The question remains, is it or is it not Picasso's fingerprint in the drawing ?
We are appealing for further information and offering a $1000 reward for a conclusive fingerprint identification. We would particularly like to gain access to ceramics collections, if you can help we would very much like to hear from you.


---
---