If you've found this site useful, we'd really appreciate a small donation to help with the hosting costs. Thanks!
The 1934 drawing appears to be a vital missing link between Picasso's Three Dancers and Guernica, two of the twentieth centuries most important masterpieces. The composition is based on The Three Dancers yet a great deal of its imagery can also be found in Guernica. It provides answers to questions about the origins and meanings of Guernica and other related works that have puzzled historians for decades. The drawing is riddled with symbolism associated with the artist's personal life and his mystical interests and it also contains a number of cryptic references to the rise of Hitler and the Third Reich.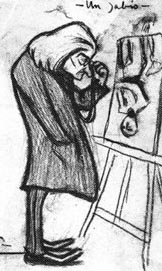 As early as 1898 Picasso appears to have been interested in inverted imagery, this is hinted at in a drawing known as 'Un Sabio' (One who knows) in which a connoisseur is closely examining an inverted picture of a nude. In his Cubist period Picasso experimented with concealed portraits of harlequins and other devices related to mythology and the occult. By the mid 1920's hidden imagery had become an established part of his repertoire. Because of his exceptional skill at concealment, this aspect of Picasso's art has been almost totally disregarded by art historians and biographers.
In the 1934 drawing Picasso has used every line and brushstroke in a intentional way, even the apparently random flow of the ink wash has been used to conceal meaningful imagery. In Guernica, and some years earlier in The Three Dancers, Picasso employed a very similar technique to achieve multiple layers of imagery. Because of the very high level of concealment in the 1934 drawing, it provides not only a key to identifying similar imagery in other works, but also a new way of understanding the underlying themes in Picasso's art.
© Mark Harris 1996
Further Reading:
Melvin E. Becraft's Picasso's Guernica - Images Within Images, 2d Edition, 1987
Langston, Linda Jane Frank, Disguised Double Portraits in Picasso's Work, 1925-1962, Phd Stanford University Phd, 1977. UMI.


---
---