If you've found this site useful, we'd really appreciate a small donation to help with the hosting costs. Thanks!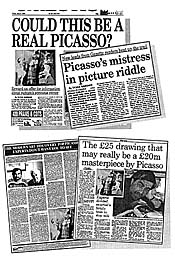 This area will be updated with major news items concerning the 1934 Drawing and the ongoing research into proving its provenance.

If you know of other coverage this story has received, that's not listed here, please let us know the details.



July 2002
Picasso's Guernica - Images within Images (2d edition, 1986 by Melvin E. Becraft) has been removed from the site.
April 2000
Picasso's Guernica - Images within Images (2d edition, 1986 by Melvin E. Becraft) is now available.
From a perspective of hidden imagery this book takes the reader on a journey aimed at understanding Guernica. It begins with the first hidden images discovered and ends on page 98 with a prediction that Jungian psychology and gnostic thought will play an important part in future analysis of the painting.
From 1986 to late1993 no further analysis of Guernica was undertaken by the author.
Shortly after November 1993 study was resumed by the author after being contacted by Mark Harris, who had discovered an unknown 1934 drawing he claimed to be by Picasso. He titled the drawing, Picasso's Unknown Masterpiece. Over eighty pages of addenda were subsequently published from 1994 to January 2000. Many of these pages strongly support Harris' claim. As predicted, Jungian psychology and gnostic thought play a very important role.
January 1997
Magazine Coverage:

6-12/1/97 - The Big Issue #214 "My Picasso Was Found In An Attic" p14-15, David Wilson
December 1996
In Support Of The 1934 Drawing Being By Pablo Picasso, by Melvin Becraft.
Picasso scholar, Mel Becraft (author of 'Picasso's Guernica - Images Within Images' 2nd Ed. 1987) agrees that the 1934 drawing is by the hand of Pablo Picasso.
August 1996
A Poster of the 1934 Drawing is now available.
Newspaper Coverage:

22/8/96 - Paris-Match "La 'Patte' de Picasso ou ses empreintes ?"

22/8/96 - West Sussex Gazette "Fingerprint Clue to Lost Masterpiece" front page, Adrian Wills

16/8/96 - Ealing Gazette "Search is on for Picasso's Prints" p9, Yann Tear

16/8/96 - The Ealing Informer "Print Clue in Picasso Quiz" p3, Colin Birch

8/8/96 - The Daily Telegraph "Fingerprint Expert joins Picasso hunt" p18, Jeremy Jehu

8/8/96 - The Independent "Suspect Picasso is dusted for fingerprints" p7, Jason Bennetto

8/8/96 - The Guardian "Thumb holds clue to 'unknown Picasso' sketch" p2, Dan Glaister

8/8/96 - The Times "Thumb period" p16, The Times Diary

Eastern Daily Press

Radio Coverage:

9/8/96 - Radio Three Counties, Radio Solent

8/8/96 - BBC Radio 4 (Kaleidoscope, The Today Programme), BBC Radio 5 Live, CBS, GLR, Star FM, Southern Counties Radio

Television Coverage:

9/8/96 - Anglia TV News

8/8/96 - BBC1 News, South Today, Channel One (Cable)
June 1996
Newspaper Coverage:

BluePrint #9 - The Newsletter of Cambridgeshire Constabulary - "Picasso Riddle Still Unsolved" p5, Matt Tapp
April 1996
Newspaper Coverage:

BluePrint #7 - The Newsletter of Cambridgeshire Constabulary - "A Thumbprint worth £20m?" front page, Tony Burnley
February 1996
Newspaper Coverage:

15-21/2/96 - The European "Web of intrigue as finger points to Picasso" p26, John May

18/2/96 - Sunday Express "Thumbprint that may reveal a £10m Picasso masterpiece" Simon Young
April 1995
Magazine Coverage:

Worth Magazine "Painted Into a Corner" p27, Dean Robinson

Newspaper Coverage:

18/4/95 - Evening Standard "Fingerprint may point to Picasso original" p19 Gervase Webb
April 1994
Newspaper Coverage:

20/4/94 - Daily Express "The £25 drawing that may really be a £20m masterpiece by Picasso" p3 Ian Cobain

---
---