The 1934 drawing is replete with theatrical associations.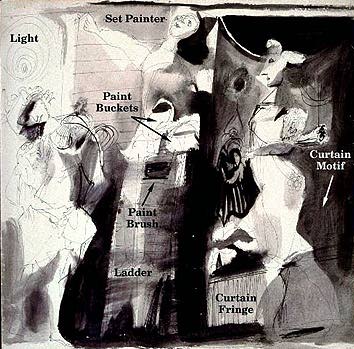 To the right, in the background, there seems to be a theatre curtain with a fringe running along its lower edge.
The three figures would appear to be on a stage with a light, evocative of a stage light, in the upper left corner.
Above the fringe of the curtain and just behind the thighs of the right hand figure there is a geometric motif that appears to contain all the letters of the name 'Picazzo,' which was used by Picasso at his first exhibition in 1900 and which appears in a number of drawings completed at around the turn of the century. The 'Picazzo' motif evokes the type of emblem often embroidered on theatrical curtains.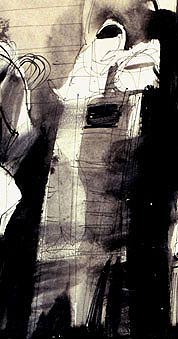 The figure in the centre appears to be a set painter, elevated on a pair of steps.
He appears to be holding two large paint buckets and a broad paintbrush close to his abdomen. These autobiographical clues almost certainly identify the figure as Picasso who was engaged for a number of years as a set and costume designer for Diaghilev's Ballets Russes.
The figure on the left hand side of the drawing resembles Picasso's mistress, Marie Therese Walter. Her costume and in particular the square head covering she is wearing appears to be derived from Picasso's costume design for 'la marchand des poissons', from Diaghilev's 1920 production of Pulchinella, Picasso's favourite ballet.

The figure on the right conveys all the poise and strength of a professional dancer. There are a number of indications in Picasso's other work which reveal this figure to be a mask of the artist's wife, Olga Koklova, whom he met in 1917 when she was a dancer with the Ballets Russes.
There are a number of other theatrical allusions in the drawing including a concealed pantomime horse, at least two references to puppetry, and a pivotal scene from the second act of Wagner's ultimate opera, Parsifal.
© Mark Harris 1996


---
---